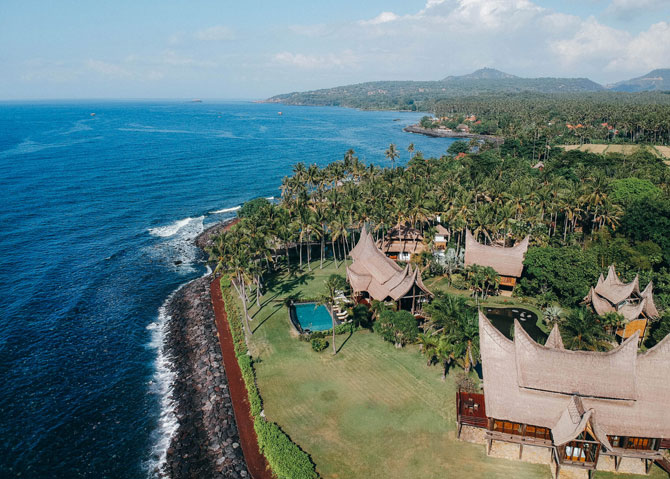 Bali is a province that is part of the Lesser Sunda Islands. There are numerous ways to travel to the island. The most convenient, of course, is by plane. A bus from Jakarta will take about 16 hours since you also have to board a ferry. You can also take the train from Jakarta to Surabaya and from there, hop on the ferry to Bali.
It is recommended that you book Bali villas first because it can be quite hectic during the tourist months, which is from May to October. Those are considered the dry season in Bali. The wet season, aggravated by the monsoon, is between November to April.
Here's why you should make Bali your next destination:
The climate is favourable almost all year round – Even during the wet season, you can still see the sun peeking throughout most of the day. The rain only comes in the late afternoon and at night. It means that you can still sunbathe and get a tan before it drizzles. Plus, there is nothing like the experience of the rain pattering on the rooftops as you read a book, and drink beer or coffee. And unless it is a thunderstorm, you should try swimming in the ocean under the rain at least once or twice.
It is cheap — Your money will go a long way in Indonesia, and much of Southeast Asia, actually. For example, one USD is equivalent to more than 75 Indonesian rupees. If you have $500 pocket money, excluding your accommodations and airfare, that should be enough to cover your week-long vacation if you are thrifty with your expenses.
There are many other sights to see — Tired of being at the beach? Fortunately, Bali has a rich culture and a long history. You can visit at least 25 temples; the most famous perhaps is the Uluwatu because it sits on a cliff that is 70 metres high. Below, you will see some surfers testing the waves. Another interesting temple is what's called the Elephant Cave or the Goa Gajah archeological complex, which dates back to the 11th Century.
Explore the island — The island is more than 5,000 square kilometres, and there are numerous secret spots and hidden gems all around that you can explore. There are waterfalls, rice terraces, boat rides, bicycles for rent, fire dances, surfers' spots, natural pools, and rainforests. One of the top activities in Bali is to enter the heart of the Ubud forest to where the monkeys roam free. You can play with them and feed them, although they can be quite mischievous at times.
The people — Another thing that should make Bali your next destination is the people. You will find there the friendliest locals around. They are always ready to help lost tourists, offer local delicacies, and give their best smiles. Not everyone can speak English, but it would not be hard to get your message across.
Bali should be on top of your bucket list the next time you are looking for your next vacation. You can go there during the off-peak season if you do not like the crowd. But the crucial thing is to book your Bali villas today to ensure your accommodations.