5 Latest Trends In Framing Memorabilia Items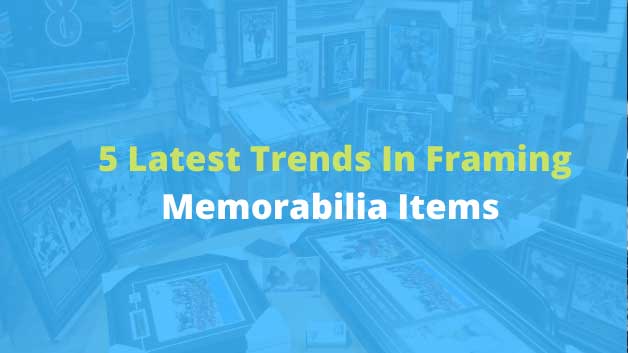 Gathering sports memorabilia is one of the most favorite pastimes of sports enthusiasts. There is plenty of online and offline communities where people can flaunt their items or share information for people who want to begin their collection. For those who just started to compile collectible items, you may consider learning new trends in memorabilia framing to let you innovatively display your valuables.
If you are already stuck with the usual frame styles that you hang at home for your sports collectibles, you need to find new ways to update your framing styles. Here are some of the memorabilia framing trends that you can try out if you want to showcase your prized possessions for everyone to see.
Trend #1: Shadow Box Frames
If you want to flaunt your expensive three-dimensional memorabilia in a strategic place in your home or property, you can consider the shadowbox style of memorabilia framing. These types of frames can help provide a richer character to intimate spaces. The shadow box framing solution can also provide better protection for the items inside the frame.
Some of the most notable sports collectible items that you can store and display in shadow box frames include a signed sports ball, a baseball bat, or any personalized item from your favorite sports celebrities.
Trend #2: Embrace Imperfections
The designs of some display areas are not like the typical ones in regular spaces. But you can now use that space to hang your beloved collection using customized frames that fit the area.
This practice is now known as the "maximalism" trend. Those who do this usually ask their framers to fit their prized memorabilia in a frame that can fit the dimension of the available space. This trend is synonymous to the popular Japanese theory called wabi-sabi, or the concept of accepting flaws or imperfections.
Trend #3: Scandinavian Trends Continue
The demand for high-quality frames remains popular nowadays. It is inspired by the traditional Scandinavian design principles, where highly skilled experts who only use the finest natural materials make items.
Thus, bespoke frames made using the Scandinavian craftsmanship principles will still be one of the first choices of anyone who plans to invest in memorabilia framing. The beauty of the frame may complement the memorable feature of the item that you intend to put inside.
Trend #4: More Floating Frames
Another emerging trend in the framing industry is the float and floater frames used by most galleries worldwide. This framing technique already found its way into homes to provide a visually appealing touch to the memorabilia section of the house.
Float frames look best for pictures and autographed images of your chosen sports hero. You may also display old venue tickets, notes, and other paper-based collectible items.
Trend #5: Wood And Leather Frame Materials
While using metals for the frame border could be the usual choice for traditional collectors, you may want to shift it to other designs like leather and wood to add more flare to your collection.
Bespoke frames using these natural materials will let your home look more unique once you hang it with your other memorabilia items. It will also let you create a more stunning look for your personality.
When planning to get memorabilia framing done for all your collection, you may find yourself surrounded by some of the amazing styles that you normally see in the best and biggest locations online. Your sports memorabilia exhibit will look even more amazing if you know what to invest in nowadays.